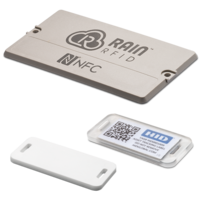 InLine Tag Plate
Nuevo
HID
Módulos RFID
Wafer-thin HF/UHF asset tags for containers or metallic equipment
Are the ideal solution for tagging shipping containers or other metallic assets. Less than two-tenths of an inch (3.7 mm) thick, these tags mount flush to any surface. The high impact polycarbonate housings shield internal components from the environmental extremes and rugged treatment of industrial freight operations. Tough and versatile, InLine Tag Plate transponders are available for mounting on metal, plastic or wood using standard nails, screws or industrial adhesives.
InLine Tag Plates UHF improve data collection speed and accuracy for logistics applications, while making tracking more cost-effective. UHF technology enables anti-collision functionality, fast data-rate communication and password data protection for precise, reliable tracking and updating.
InLine Plate Asset tags help organizations to implement accurate maintenance billing of serviceable equipment preventing fraud while providing an enhanced user interface for service technicians through their NFC phones.
Aplicación en:
Asset Tracking and Logistics
Postal and road toll management: truck, wagon and train tracking
Supply chain management: pallet and goods tracking
Automation and Manufacturing
Materials and inventory and tracking
Returnable Transport Items
Shipping container tracking
Waste Management
Commercial and industrial bin identification
Maintenance and Inspection
Trusted ""proof of presence""
Supports CMMS (Computerized Maintenance Management System) via NFC
Características:
Durability – Resistant to outdoor elements as well as blunt and sharp impact, The tags are lightweight, dust tight, waterproof and protected against close-range high pressure, high temperature spray downs (IP69K).
Versatility – Thin plates mount flush with glue or screws to any material. The plates can be read from distances of up to a 26 ft (8 m) Fully interoperable; standards-compliant
Noticias relacionadas
No hay noticias relacionadas